Why train to operate the VNA (Very Narrow Isle) Forklift Truck?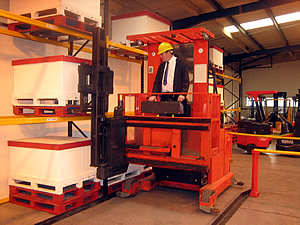 VNA stands for Very Narrow Aisle and is also known as a Man-up or Man-riser truck,

The VNA makes very efficient use of space, which is why it has become so popular with many of the big distribution centres. You will often see jobs for the VNA advertised in the paper or at agencies sometimes incorporating the words "urgently required".
The VNA licence could give you a real advantage in your search for a well paid job because whilst there are plenty of people with Reach and Counterbalance certificates, there is always a shortage of qualified drivers of Very Narrow Aisle machines.
This is because there are very few training schools that have invested in the proper VNA equipment simply because it is so costly. As a result the opportunity to get trained away from an employer's site is very limited throughout the country.
We believe that our Northampton school is probably unique among training centres in that we have a dedicated guidance system for our VNA machine to better replicate for the trainees the actual operating conditions that may be found in the workplace.
A note of caution If another training school is offering VNA on their own premises, do check to make sure that they actually have a genuine VNA truck also known as a Turret truck or a VNA tri-lateral and not just an Order Picker. Whilst both machines can work in a Very narrow aisle, the two machines are not at all the same thing and training on an Order Picker will not qualify you to use a proper VNA Machine.
Many people who have had VNA training on the premises of a previous employer (in house). Are not able to take their certificates with them when they leave so that further reduces the availability of certificated VNA Drivers.
You will be pleased to hear that Our company has invested in genuine VNA machines in both our Coventry and our Northampton training schools.
So at last the opportunity to get trained at a local training centre is now available to all.
Our VNA training courses tend to get booked up well in advance, so call now to reserve your place.
Special Offer for existing counterbalance or reach truck licence holders ( Limited time only). Book a Bendi / Flexi or a VNA course and get a refresher course absolutely free of charge.